Book Giveaway: Every Family's Business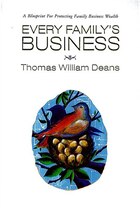 As promised during the book review, Dr. Thomas William Dean has generously offered to give away 5 copies of his popular book: Every Faimly's Business: A Blueprint for Protecting Family Business Wealth.
Here is a snippet of the review:
Here is some food for thought, did you know that only 1/3rd of ALL family business survives to the next generation? On top of that, only 10% of the 1/3rd make it to the third generation? Could family business succession be that poorly handled? That's what this book has to offer. It discusses the main issues with family business succession and the plan to take to ensure that the transfer of wealth is achievable.
How to enter:
Leave a comment about your family views on money while you were growing up. (+1 entry)
New and existing email subscribers will automatically get an extra entry on draw date. Note that only verified subscribers count. (+1 entry)
1 copy will be given to the top commentator of April 2008.
The Rules:
4 copies will be drawn at random from available entries. You can have a maximum of 2 entries.
1 copy will be given to the top commentator of April 2008 (standings in the right sidebar)
Please only 1 comment entry / person (please enter a valid email address).
Publisher will ship anywhere in the world for free. So everyone is welcome to participate.
Deadline:
Contest for the first 4 copies will end April 11, 2008 Friday 5pm EST .
Top commentator of April 2008 will be determined at the end of April.
Good luck!
If you would like to read more articles like this, you can sign up for my
free
weekly money tips newsletter below (we will never spam you).