With the Canadian Dollar at 4 year lows relative to the U.S Dollar, it seems like just a few months ago where the Canadian dollar was at par with the U.S Dollar.  Oh wait, that was a few months ago!  Since the middle of July, the loonie has dropped more than 27 cents (as of 10/24/08) and it's possible that it could go further in the short term.  What's really impressive about the surge is that most of the move has been in the month of October.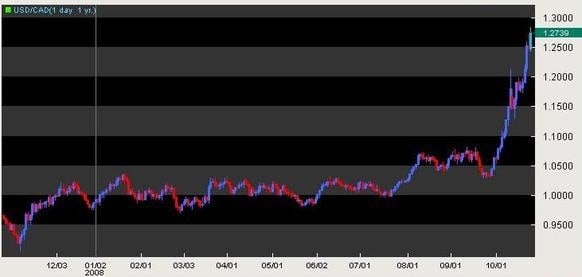 To some, a fluctuating currency doesn't make a big difference in day to day life.  However to others, it's the difference between being employed or not as it can have profound influence on currency dependent industries.
What does a lower dollar affect you?
Those who are paid in USD will get an extra boost in their income.
It is more expensive to buy U.S items and more expensive to travel to the U.S.
Canadian exports will increase, thus increasing manufacturing jobs in Canada.
Canada will be a cheaper travel destination, thus increasing the tourism industry.
It is now more expensive to buy U.S stocks if you need to do a currency conversion at todays rates.
To add to this discussion, there are some economists that predict that the Canadian dollar will bounce back soon as the buying of the U.S greenback due to short covering will decrease significantly.
For those who agree with the economist prediction of a Canadian dollar quick recovery, Horizon BetaPro has an ETF that covers the USD bull/bear – HDU and HDD.  Note that currency trading is extremely risky and is something that I personally stay away from.
Question for you, how has the lower Canadian dollar affected you financially?
I've Completed My Million Dollar Journey. Let Me Guide You Through Yours!
Sign up below to get a copy of our free eBook: Can I Retire Yet?