8 Ways to Simplify Christmas
Christmas is one of those topics that people feel strongly about. If you love how your family does Christmas, great. Keep it that way. If you've been wanting to make some changes, this is the time to do it. Summer is over. Most people haven't started their Christmas shopping yet. You want to talk to your family before they start making Christmas plans.
My extended family is steeped in tradition. Changing anything is nearly impossible. When Brian and I moved overseas for nearly 5 years, our family understood that we weren't going to be there Christmas morning. When we returned, it was expected we do the same thing we've always done.
We wanted to make some changes and one of those changes was simplifying the whole season.
One of the best ways to save money at Christmas is to simplify. For us it meant buying less stuff for fewer people. Our purpose wasn't to save money although in the process we did. Our purpose was to create the kind of Christmas we wanted to have rather than just doing what we've always done.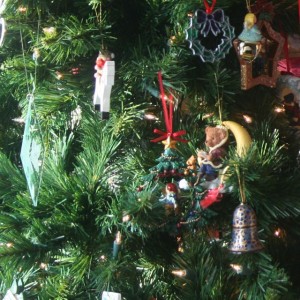 Here are some ideas for simplifying Christmas.
1. Consider only buying gifts for kids, your partner and your parents.

This was one of the first changes we made. Now instead of buying for our brothers and sisters and their partners, we buy only for their children, our children and for our parents. Suggesting this in early December sounds cheap and lazy. Suggesting it in September or October sounds wise. The complication in this one is for the people who don't have a partner or children. You will have to set the ground rules for your own family as well as the cut off age for kids.
2. Consider a smaller gift for your own kids.

This one really depends on the size of your extended family and how many gifts they receive at Christmas. Our extended family is huge and our kids get lots of gifts at Christmas. We only buy one gift for each of our kids (and one gift from Santa). Christmas morning doesn't have to be about the quantity of gifts. For us, it's about being together and showing our love and appreciation for one another with a gift, not a pile of gifts.
3. Try a family gift instead of a gift for each person.

If you do buy for lots of nieces and nephews you may want to consider a joint gift. Perhaps a family board game, a DVD set or tickets to an event. It simplifies your shopping and it's something the whole family can enjoy.
4. Give the gift of experiences.

For the family that has everything, is trying to downsize or lives a simple life, experiences can be a great gift. Try a museum pass, a gift card for movies and popcorn or tickets to a play or concert.
5. Make it a pot luck.

This is one of the best changes our family made. My parents would buy and make all the food. It was exhausting for them. Now we bring the side dishes, my sister-in-law makes dessert and my parents bring the turkey. It makes it more relaxing for everyone and it saves money when you only have to purchase part of the meal.
6. Stay organized.

I love spreadsheets. My life wouldn't be half as organized without my trusty google spreadsheets. Every year I set up a Christmas spreadsheet. This way I can keep track of whose gift I've purchased, who is left on the list and any ideas I have for gifts remaining. As soon as the gift is purchased, I highlight the column and it's easy to see what is left to buy.
7. Shop online.

I really dislike shopping, especially shopping in crowds wearing a winter coat walking through a hot mall. I will do anything to avoid the mall in December. I try and get most of my shopping done by December 1st and when I can, I shop online for gifts. Many places have free shipping around Christmas. Others offer wrapping and will even fill out a card if you're having it shipped directly to the recipient.
8. Try skipping Christmas.

This one probably won't work if you have children. One year, I'd love to spend all our Christmas money on a resort vacation with the extended family. My favourite holiday is Thanksgiving. It has the same people and the same food but without all the stress of buying, wrapping, finding and returning gifts.
It's not to early to simplify Christmas this year. Now is the time to talk to your family.
If you've found ways to simply Christmas, share with us here. How did it go when you first brought it up with your family?
Kathryn works in public relations and training for a non profit. In her off hours, she volunteers as a financial coach helping ordinary Canadians with the basics of money management. Her passions include personal finance and adult education. Kathryn, along with her husband and two children live in Ontario.