8 Fundamental Money Lessons for Kids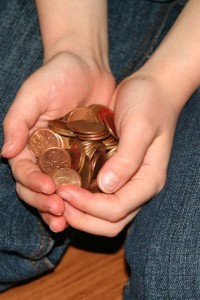 This is another guest post by Kathryn who most recently wrote about feeding a family of 4 for $100/week.  This time around, she shares her ideas on how to teach kids about money.

My brother and I couldn't be more different when it comes to how we manage our finances and yet my Dad was a great money manager who taught us from a very early age everything he knew about managing money.
I started thinking about this one day and wondered if this was the same for other families. It was then that I began asking around. "Hey, you have two siblings. Do you have similar spending and saving styles?" The answer inevitably began with laughter and an exclamation. "No, way!" I began to wonder if teaching kids about money had any effect at all.
Even my own two kids couldn't be more different when it comes to their money personalities. My 10-year-old spends money the moment he gets it. It's like it eats away at his soul until he's exchanged it for commodity, usually to our distress, trading cards. My 8-year-old is as frugal as her dear old Mom. She loves to save. I asked her why it is she likes to save all her money. She replied, "It makes me feel powerful." Well then. She never heard that from us. Honestly.
If siblings turn out so different in regards to how they handle their finances, is there anything we can do to prepare them for a strong financial future? Here are a few steps you may want to consider.
1) Model Generosity
If you give to charity, talk to you kids about why you chose that particular charity. If you sponsor a child through Compassion Canada or World Vision, have your kids write letters or send photos. Show them where your sponsored child lives and what the living conditions are like there. When you go shopping for gifts, take your kids with them and have them brainstorm ideas on what people might like. Get them thinking about the needs of others and how they might make a difference. Let your kids see you being generous with your money.
2) Watch your language
We don't say, "We can't afford that." If they ask for something, we'll say, "Sure! Do you have enough saved up for it?" If we truly can't afford something, we'll say, "It's not in the budget this month, but if it's really important let's make it a priority for next month." We are careful to never complain about finances in front of the kids.
3) Give them an allowance
There are persuasive arguments both ways for whether the allowance should be tied to chores or not. The issue is to decide as a family how much allowance to give, choose whether it will be tied to chores or not, and then be consistent about giving it. Many people I've talked to over the years give the child's age in dollars per week or bi-weekly. The choice is yours. Some people prefer to pay their kids the same amount to keep things equal. Other people prefer to give their kids a raise on their birthdays.   Start whenever you like but most kids really begin to understand the value of money right around the first grade.
4) Consider a "clothing allowance" once they reach the age of twelve
I truly believe that this is one of the best financial decisions my parents ever made for us. By the time I was twelve I was making $15 a week. That was a lot of money in 1983! It was way more than my friends ever made. I was responsible for buying my own clothes, gifts for friend's birthday parties, and any music, books, or magazines I wanted for myself. I never once had an argument with my parents over something they didn't want to buy me. If I wanted something, I just saved up and bought it myself.
5) Consider paying them interest
We give our kids an interest bonus of $2 a month for every $100 they have in their bank account. It may not seem like much but it sure is motivating to a school age kid who'll do the math and figure out the more they have, the more they'll earn. Just like in the real world.
6) Let them make mistakes
One of the hardest things I've had to do as a parent is to let go and allow them to make mistakes. This doesn't mean you can't set boundaries. If you don't allow certain toys or clothing items, then the rule still applies whether they buy it or not. It's fine to allot a certain amount for saving, giving and spending. After that, spending money should be just that, for spending on whatever it is their little hearts desire, webinz and trading cards included!
7) Teach them about banking
We give our kids their allowance by cheque. We drive down to the local bank and they stand in line to deposit the money into their accounts and withdraw any spending money they want. Most large Canadian banks have free accounts for kids. I have been particularly impressed with Royal Bank and their Leo account. We called to set up an appointment to open an account and they treated the kids like VIPs with a grand tour, which ended in the vault where they each received five loonies to start their accounts.
8) Give them an early lesson in the miracle of compound interest
Let your school age child or teen play around with these online calculators for a while and watch what happens. Here one from msn, and another.  They will be amazed.
I've also heard great things about The Motley Fool Investment Guide for Teens for kids twelve and over. They may not listen well to a lecture from Mom and Dad but books and online calculators can inspire a change of thinking about the real value of saving over time.
Final Thoughts
We may not feel like we are making a difference to our children's financial futures when month after month they spend money on things we would never dream of buying.  Kids will do what we do, not what we preach. Over time, if we model both generosity and gratefulness, teach them the basics of banking, and allow them to learn from their mistakes, we can be rest assured we've given them the tools they'll need for a strong financial future.